When:
October 29, 2020 @ 6:30 pm – 8:00 pm
2020-10-29T18:30:00-04:00
2020-10-29T20:00:00-04:00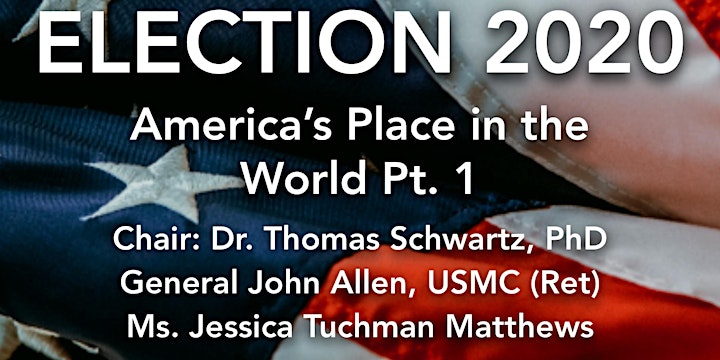 America's Place in the World – PART 2
Chair: Professor Thomas Schwartz, Distinguished Professor of History, Vanderbilt University
Ambassador John Kornblum, U.S. Foreign Service (Ret),  Former U.S. Ambassador to Germany (Confirmed)
Ambassador Thomas Pickering, Distinguished Fellow, U.S. Foreign Service (Ret),  Former U.S. Ambassador to the United Nations, to Russia, to India, to Israel, to El Salvador, to Nigeria, and to Jordan (Confirmed)
.TNWAC is launching our Election 2020 global awareness series as we prepare for the Presidential Debate hosted by our partner Belmont University on October 22nd.
TNWAC presents interviews and panels with distinguished specialists in international affairs to prepare voters with background and context on the critical issues they should know about the world.
TNWAC is a nonpartisan educational organization that seeks to educate the community on global affairs.
America's Place in the World
These questions may be among those to start things off, plus your questions.
The U.S. relationship with China has emerged as one of the most prominent issues in the current presidential campaign. What are your thoughts on how American policy toward China should evolve over the next five to ten years? Are we competitors, rivals, or enemies?
The next administration will almost certainly face the question of the future of US policy toward Iran. Do you favor returning to the JCPOA, or should a new agreement be negotiated?
If Biden wins the election, can the United States resume its role in international organizations like the WHO and return to agreements like the Paris climate accords, or has there been significant change in how the United States is perceived that would preclude such a restoration?
In the wake of the poisoning of Alexei Navalny, and continued interference in the American elections, is there a way forward for the US relationship with Russia under a Biden Administration? What should US policy toward Russia seek to accomplish?
If, as Richard Haass has remarked, that foreign policy begins at home, how can or should a new presidential administration seek to rebuild the basis of domestic support for an engaged and active American foreign policy?
In what ways will advances in technology – AI, quantum computing, etc. – affect 21st century diplomacy and international engagement?
Given the various disputes between the United States and its European allies, most notably over the Nord Stream pipeline and policy toward Iran and China, is there a future for the NATO alliance?
What are the greatest challenges that America faces in its foreign policy over the next five to ten years?
Send your questions in advance to: [email protected]