When:
April 21, 2021 @ 6:00 pm
2021-04-21T18:00:00-04:00
2021-04-21T18:15:00-04:00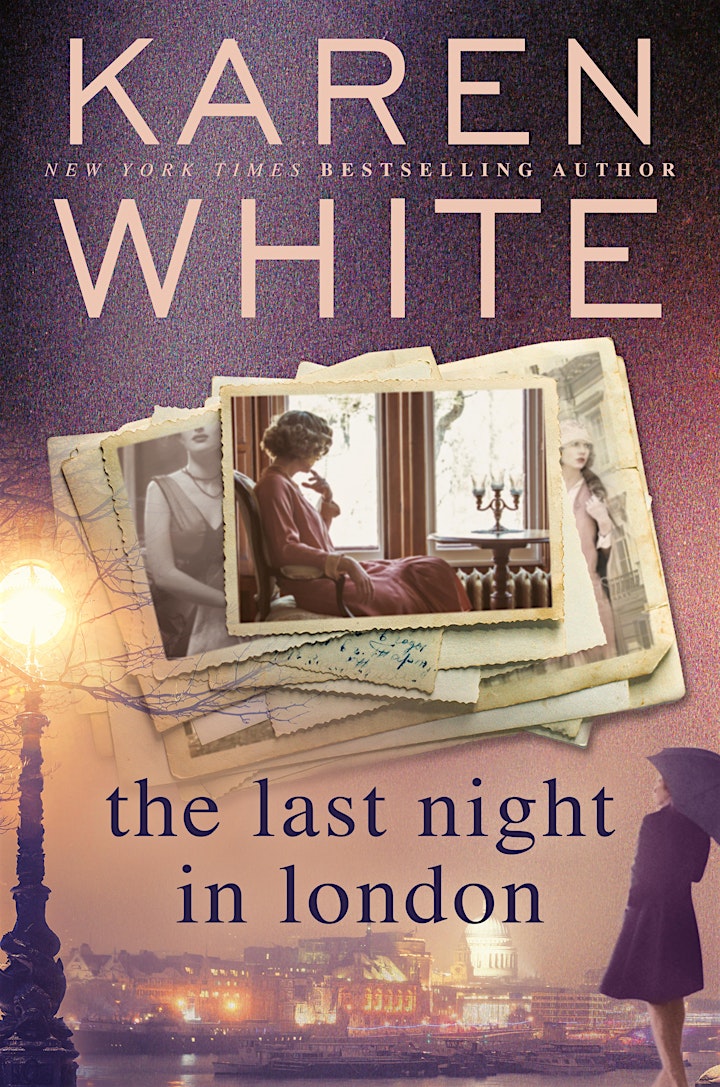 Don't miss this virtual event with New York Times bestselling author Karen White!
Fiction Addiction is thrilled to bring you a virtual event with New York Times bestselling author Karen White on Wednesday, April 21st at 6pm Eastern.
Each ticket includes access to a live online book talk as well as a copy of The Last Night in London and a SIGNED bookplate. You will be able to access the event through Eventbrite after your ticket purchase.
Tickets can be purchased through Wednesday, 4/21/21 at 6pm. Refunds can be requested up until the ticket cutoff.
New York Times bestselling author Karen White weaves a captivating story of friendship, love, and betrayal that moves between war-torn London during the Blitz and the present day.
London, 1939. Beautiful and ambitious Eva Harlow and her American best friend, Precious Dubose, are trying to make their way as fashion models. When Eva falls in love with Graham St. John, an aristocrat and Royal Air Force pilot, she can't believe her luck—she's getting everything she ever wanted. Then the Blitz devastates her world, and Eva finds herself slipping into a web of intrigue, spies, and secrets. As Eva struggles to protect her friendship with Precious and everything she holds dear, all it takes is one unwary moment to change their lives forever…
London, 2019. American journalist Maddie Warner, whose life has been marked by the tragic loss of her mother, travels to London to interview Precious about her life in pre-WWII London. Maddie has been careful to close herself off to others, but in Precious she recognizes someone whose grief rivals her own—but unlike Maddie, Precious hasn't allowed it to crush her. Maddie finds herself drawn to both Precious and to Colin, her enigmatic surrogate nephew. As Maddie gets closer to her, she begins to unravel Precious's haunting past—a story of friendship, betrayal, and the unremembered acts of kindness and of love.
About the Author: Karen White is the New York Times bestselling author of more than twenty novels, including the Tradd Street series, Dreams of Falling, The Night the Lights Went Out, Flight Patterns, The Sound of Glass, A Long Time Gone, and The Time Between. She is the coauthor of The Forgotten Room and The Glass Ocean with New York Times bestselling authors Beatriz Williams and Lauren Willig. She grew up in London but now lives with her husband near Atlanta, Georgia.